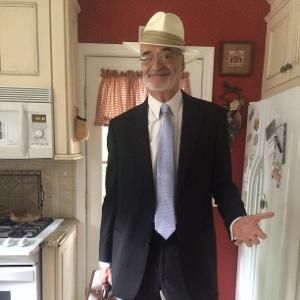 WHEN THE WORLD CAME BACK
HOW IT CAME TO BE... BY BARRY STRUTT
When the World Comes Back 
How the song came to be— 
Among other hats I wear, I am a board member and an initial donor of a non-profit jazz club, The Jazz Forum, in Tarrytown, N.Y. In the early stages of the pandemic just as New York was getting clobbered, we had a board meeting. As I recall, it was among the first of many Zoom meetings, where we discussed how we might try to survive until the Spring-Summer of 2001, the most optimistic date for the return of live outdoor concerts. 
While the club sponsors a very active outdoor concert series, its calling card is intimacy—full capacity is 88—not a bad seat in the house. No stage—the tables laid out in an "L" – the closest ones close enough to lean over and touch the bell of a horn. But now we were all quarantined. The state-wide order came down! Everyone stay home! Everyone! 
The club was on life-support. Grants were in jeopardy and drying-up. It was all bad news. Based on all the long-range forecasts of when New York might reopen; when outdoor dining might start-up again, then indoor dining; gyms and salons, it was obvious that we would be among the very last to receive permission to come back. If there was anything to come back to. 
We discussed the problem as one the entire world was facing. Still, we brainstormed. A lot of very creative people on that board. John Gunther-Mohr, the board's chairperson, began to summarize the various approaches to keeping the club alive until this came back, until that came back—finally he sighed and said, half under his breath: "Until the world comes back," and moved on. 
At the meeting's close, I couldn't get the phrase "until the world comes back" out of my head. Many, if not most songwriters, will tell you that inspiration often strikes from being always attentive to the natural rhythms and phrases of common speech. There's potential gold in every casual conversation—especially in small groups. Well that night, and for weeks afterwards, I played around with the idea of a song called "When the World Comes Back." I tried a jazz ballad, then a pop ballad . . . then I sketched some lyrics—all too dark. I became a little depressed. I had lost a few close friends and acquaintances to COVID.  Several close friends had become very sick, but made it through, barely. Some were still having a slow, tough recovery. Trying to write about it –in song—was making things worse. I had had enough of the pandemic. I wanted it to be over. I put the song away. Maybe it wasn't such a good idea after all. 
As March 2021 approached, and the dream of a successful vaccine became increasingly real, I felt hope. I put down the project I had been working on for the past three years, a musical, because all I could hear in my head was "when the world comes back." What would happen? What could happen? Could we feel joy again? After all that had happened would we ever truly feel whole again? And how could that happen? Could the entire world truly "come back?" 
I sat down at my Nord, put on my headphones and banged out the hook to "When the World Comes Back." It made me feel a little better. It just felt right as a moderately up-tempo jazz-shuffle—not strictly jazz—a groove—something both jazz and non-jazz folks could warm up to. But then a problem emerged. This wasn't simply a "feel good" song. It couldn't be. Not with the subject matter. Not with all that had happened. Not with what we would all still face even after being vaccinated. 
I needed a lyrical context that might at least touch upon the darkness we had been through, but at the same time leave us with some hope. Lead us to hope. As human beings, we can never deny ourselves the possibility of hope—or at least hoping for hope. I thought: maybe it's a suite. A two-part song. The first part is the darkness—then there's the release: the prospect of a new dawn, the glint of some light at the end of a long, dark tunnel. So I wrote a poem for the first part that begins—"The world has lost its harmony . . . " I was back to more jazz—I was thinking of Gil-Scott-Heron. ("The revolution will not be televised"). I could hear some "outside" changes and riffs accompanying the "reading" of the first part. I thought of David Barnes, a singer with Gil-Scott-Heron who had been in an early version of "Mystic Merlin." He could do it. Then I thought: "Wow, wouldn't it be amazing to hear someone like Andre De Shields read the poem, to bring it to life. (Hey, you gotta dream big when you're in the midst of creation. You gotta keep the dream alive.) I thought: "Hey I'll call ("Clyde Bullard") the bass player from Mystic Merlin and a life-long friend. He has a mellifluous voice. He could do it! I sent him the outline, and a sketch of the tune, and he said he was interested. 
But the more I thought about it, the more I wasn't sure it could all work together. It might work. . . but it would make it a lot harder to pull off. And in a Zoom world, the more moving parts there are, the harder it is to complete something! I called Ray Naccari, the arranger/pianist/songwriter I have been working with for the past three years and sent him a rough sketch and lead sheet for the tune. He thought the tune was strong enough to stand on its own—to forget the first part—the spoken word—at least for now—and concentrate on finishing "When the World Comes Back." 
And then a strange thing happened. I just sat down and wrote the beginning first verse. The music and words just tumbled out. The lyrics lightly touched upon the darkness we were (hopefully) emerging from, then ended with "don't give up yet." Was this a return to the ballad? Yes and No. I thought at the right tempo it might fold into the shuffle "hook." The lyrics to the second verse focused on our need for hope—and love. Ray tinkered with the groove and it became clear that now the verse and the hook belonged together. 
I only considered one person for the vocals, Dakota Macleod, Ray's wife. She can sing anything and make it happen. She has both sensitivity and power in her voice. Amazingly, she not only sang the lead, she also did all the background vocal parts! 
Yet musically, I still felt it was missing some energy. We needed an instrumental interlude following the short "bridge" I had come up with. A solo section. I thought: Guitar? Horns? I heard a trumpet and wondered if an old friend, Randy Brecker, might be interested in doing it. I sent him a lead sheet, and an mp3 and Ray's amazing synth work carried it off. Randy said "yes," and suggested having his wife Ada Rovatti write the horn charts. She had to hear the tune first, though. I had recently heard some of Ada's writing as Randy and Ada had played on one of the Jazz Forum's "live stream" concerts, and I was thrilled that she might write the chart and play on the tune. 
A few days later, Randy sent an audio version of what they had created. Instead of a trumpet solo in the middle of the tune, Ada had written this amazing contrapuntal "duet" for tenor sax and trumpet. It was clever and fresh and caught the spirit of the tune perfectly. Then I asked Randy to solo over the extended "fade" and it all came together. I missed not being in the studio, working together, but we are all learning how to write "around" the hurdles the pandemic has created.  With the help of Zoom and Pro Tools, and some great playing, arranging and mixing by Ray Naccari, somehow the magic happened and "When the World Comes Back" was born.